Write Comment (no comments)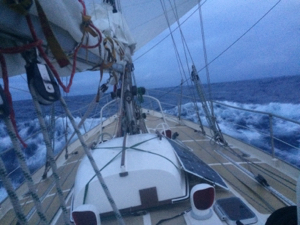 August 7
Cape Flattery to Kauai
Day 16
Noon PST position: 22.29.61N by 159.03.30W
Miles since last noon: 167
Total miles of passage: 2532 / 30 to Kauai
Avg. Miles per Day: 158
Course: SW
Speed: 6 and 7 knots
Wind: ENE 15 to 20
Sky: Rain squall, one after the other
Waves: ENE 5-7
Bar: 1011
Air Temperature: 81 degrees
Sea Temperature: 79 degrees
A clear and starry sky. Wind, its usual fresh self. Our progress, excellent. Maybe we've got ahead of Ex-Howard, I thought. Or he's blown beyond?
3am. I woke to rain, that hot hurricane smell*, and a pilot house full of water. I'd left the hatch open (See reference to stars), which a passing squall could not resist. Mopped up. Went back to my bunk. Woke next hour to find the pilot house full of water. I'd left the hatch open. Another squall. Mopped up. Did that THREE times before remembering to CLOSE the hatch after the mopping exercise. Pilot house now cleaner than it has been in weeks.
Daylight showed the sky not as terrible as it had felt. It is eery to have it so dark you see nothing, not even whitecaps, so drizzly the dull cone of your headlamp penetrates a mere foot or two before giving up. Without evidence to the contrary, you imagine apocalypse. Dawn is greatly anticipated.
And this dawn showed a lower and grayer version of more-of-same.
My barometer read 1011. I'd calibrated in Kodiak. Am presuming at 1011 I'm near Howard's center of 1013! Or maybe I've trespassed into the Holy of Holies. 1011 is lowest I've had by far. The barometer has been hovering at 1015 to 1013 for a couple days. 1019 to 1022 were previous trade wind norms.
Winds now are really the same they've been for days, too. There was more NE in them overnight, but there's more E in them now, and velocities are in the high teens, low 20s. The NE winds took me off south overnight, which I wanted due to SE winds predicted for close in (looks like SE won't be in the cards for the N island areas…ok w/me), but have not been able to hold onto the southing. Am more or less back on my rhumb line course.
Somehow I magicked into the perfect set of sail at yesterday's dusk. Made 6.7 knots overnight, and though I adjusted course several times, I never touched the set. Must be picking up a beneficial current too; the wake I make is just not going that fast.
Biggest concern now is to get lined up for entrance. Don't want to be swept past. Don't want to turn the North Shore into a lee shore.
30 miles to go.
Three boobies headed into the wind, one a blue footed; two were juveniles I couldn't identify. One Frigate gliding high. Oh yes, I'd forgotten about them.
No sight of land. Drenching squall after drenching squall today. Not expecting land ho until I'm upon it.
—
*never been in a hurricane, but I've got a whiff a few times on this passage when the dark rain cell that passes over you is actually hotter and and muggier than the clear tropical sky it covered.