Write Comment (2 comments)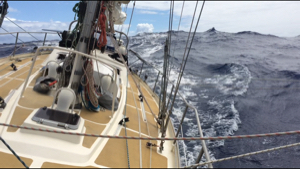 August 3
Cape Flattery to Kauai
Day 12
Noon PST position: 27.51.83N by 149.50.01W
Miles since last noon: 153
Total miles of passage: 1915 / 624 to Kauai
Avg. Miles per Day: 160
Course: SW
Speed: 6
Wind: ENE 15 to 25
Sky: Tropical Cumulus, occasional squall
Waves: ENE 5-7
Bar: 1020
Air Temperature: 79 degrees
Sea Temperature: 76 degrees
I now understand why Moitessier made the Tropic Bird his avatar in *The Long Way*. The piece of ocean where he received so much companionship must have been similar to mine, as several daily and much anticipated visits are now my norm.
They usually occur in the morning.
And we've begun to converse.
Randall: Good morning, my friend. It is a great pleasure to see you. It pains me to tell you that I still have no fish. Please accept my greatest apologies, and feel free to check back tomorrow.
Tropic Bird: Squawk. (Flies off.)
For I have sussed what they are after. They've seen the flying fish on my decks. They've made a connection, thus far unproductive for them.
(Lovely bird, but I suspect that an infinite number of Tropic Birds wouldn't get any nearer to *Hamlet* than an infinite number of squawks.)
—
Slept fitfully through the last two one-hour cycles and ended the last prematurely. The night had been thick, heavy with cloud and muggy. Even with but a sheet I was clammy in the lee cloth. Clammy and worried.
In the wee hours the wind went soft and I'd let us drift off to the west rather than do the work required–that might include finally taking down the poles–to get us back on course. I wanted to sleep. And dark was complete; I couldn't see the deck much less the sails. One more hour. Ten miles west won't count much against the required 600 southwest.
But then there's this Howard and his distant cousin I need to stay ahead of. This is not the season for dawdling here.
At first light I found my seat next to Monte (the wind vane) intending to reintroduce the idea of southing into a conversation that had begun to feel more like a therapy session than a directive on direction-keeping.
"So, when was it you realized you were afraid of going south?"
I reached for his adjustor, but noticed an odd lay to the starboard tiller line. The cover gathered up like a worm near the bowline, and when I looked over the dorade vent, I could see that it had worn away entirely leaving two feet of bare core, which itself was already fraying.
Even before coffee, this!
I had checked here for chafe a mere 24 hours earlier. The line gently touches the ring of the dorade and cockpit coaming–on both sides–but neither had produced any evidence of chafe the whole passage. I felt the dorade ring again. Nothing sharp.
What is it with Monte that he must chew through so much goddamned line?
I switched on Otto (autopilot) and had a new (old blue Amsteel) line rove within the hour (getting lots of practice there, at least). But I left Otto on until late afternoon, this by way of letting Monte know he's not the only game in town.
I also taped up the dorade touch point.
Part of my bafflement is that I used the same unit on Murre, and in 15,000 miles and three long passages, I never had to renew the tiller lines. So, the issues must be unique to this install…or its user…but how?
—
Am now shirtless, in shorts, and rubber boots. I have all the color of a flayed Halibut and as much muscle tone. I've spared you the photo.